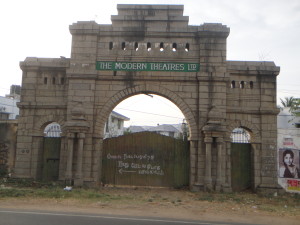 The white letters on the gigantic gate have not faded though the arc lights inside the studios stopped beaming three decades ago.Behind this gate,the history of Tamil cinema was made in the 1940s and 50s under the banner of The Modern Theatres,set up by T R Sundaram.Vetri Namathey,the last movie produced under the banner,was released on March 10,1982.Then the curtains fell and the vast studio property fell into disuse.In 2004,a builder bought it and developed a housing complex.The gate with The Modern Theatres written in bold was spared
for posterity.
The Modern Theatres Ltd was established in 1937 by Sundaram on the Yercaud Main Road,8 km from Salem.In four decades,Modern Theatres produced 136 movies in  Tamil, Malayalam, Kannada, Hindi, Telugu and even English.It has the unique distinction of having had four chief ministers, MGR, M Karunanidhi, Janaki Ramachandran and N T Rama Rao on its payroll.
It was one of the earliest studios in Tamil Nadu.TRS was a visionary and he managed the studios with complete professionalism on the lines of Hollywood theatres,introducing new concepts and experiments, says Mohan V Raman, a historian of cinema.
TRS introduced several new concepts in film making and produced 99
movies.Several talented people entered the movie industry through Modern Theatres and became synonymous with Tamil cinema. MGR, Gemini Ganeshan, Sivaji Ganeshan, Jaishankar, Manohar and Manorama were all at some point associated with
this production house.For many artistes,it was a training ground.Artistes were hired on monthly salary, says Raman.
When female artistes were a rarity,TRS introduced Thavamani Devi,a Sinhalese actress in Sathi Ahalya in 1937. Some of the greatest hits of Ta m i l c i n e ma Uthamaputhiran (1940), Arundathi (1943), Apoorva Chintamai (1947) and Manthiri Kumari (1950) were produced by Modern Theatres.
So were some of the major experiments in Tamil movie industry.The first colour film,Alibabavum 40 Thirudargalum (1950),was written and directed by TRS himself with MGR and Bhanumathi in lead roles.Actors in double roles were introduced in Uthama Puthiran and stunt scenes in Mayamayavan (1938). The concept of zooming
was successfully tried in Ponmudi (1950), when zoom lens was not prevalent.
The first Malayalam talkie, Balan (1938), and the first colour film, Kandambecha Kottu (1961),were produced here. During the filming of Konchum Kumari in 1963,in which Manorama starred as a heroine, TRS suffered a massive heart attack and died. Following TRSs death, his son Ramasundaram took over the studio and produced several movies, mostly starring Jaishankar, who was famous as the south Indian James Bond.
With Tamil cinema shifting to Kodambakkam and the death of Ramasundram, The Modern Theatres closed down. But many here treasure memories of the time when Salem was the hub of film making. During my childhood, my parents used to take me to the studios. We could not preserve the studios. But I decided to have my house where the historic structure once existed, says Maheshwari Selvam,the
first occupant of the flat complex at Sundaram Gardens.
http://lite.epaper.timesofindia.com/mobile.aspx?article=yes&pageid=8&sectid=edid=&edlabel=TOICH&mydateHid=12-03-2012
Tags:
Modern Theatres
,
Tamil Cinema