The recent murder of a self-professed atheist in Coimbatore has sent shivers down the spine of many writers and activists in Tamil Nadu as it reminded them that free thinking is becoming a life-threatening risk in the state. Though there have been several incidents of threat to writers for their creative expressions, a murder is first of its kind. It also reveals that the culture of intolerance has grown at alarming level from caste animosity to religious passion cutting across religions.
31-year-old H Farook, a Darvidar Viduthalai Kazhakam (DVK) activist, was killed 15 days after posting his daughter's picture carrying a hand-written placard which reads 'Kadavul illai, kadavul illai, Kadavul illai' (No God, No God, No God) on a Watsapp group. Though motive of the murder is yet to be ascertained it's widely believed that his rationalist views led to his murder.
It was just four days before the murder more than 60 writers, activists and film makers from Tamil Nadu and Kerala had come together under one roof in Yercaud to share their predicaments. Despite being drawn from various streams of thoughts they all shared the same concern that the society is becoming more and more intolerant to dissenting voices.
Organised in collaboration with the University of Madras, department of Islamic studies, and a group of writers, the session on literature witnessed outpouring of incidents of threats that the authors had to face from their own communities for questioning oppressive social customs and practices rooted in the society. While dalit writers had to face the wrath of upper caste groups for questioning caste hegemony, for Muslims authors, the threat was double-edged as they were forced to 'mend their expressions' while writing on community issues to escape wrath of both the traditionalists and the progressive groups within the community.
While many of them were branded as 'heretics' and 'unbelievers' some of them were even ostracized from local jama'ts for questioning, what they called the established customs and traditions.
While Perumal Murugan grabbed the headlines after he himself 'declared dead' after being hounded by dominant caste groups for his 'derogatory' remark in his book Madhurobhagan (One part woman), the ordeals of many of these writers remain untold stories and they have been living under threat in their own societies for decades.
58-year-old H Gulam Rasool of Thakkalay in Kanyakumari district had to live under constant fear for several years after his collection of poems Mayilanchi published in 2000. In one of his poems, daughter of the protagonist asks her father, "Ithaney aan nabikal madheyil en vappa illai oru pen nabi" (Among all these prophets why not a single woman".
As per Islamic belief God has sent 1, 24000 prophets to guide the humanity and Quran mentions names of about 20 prophets, all of them are men.
Rasool was threatened for 'writing against religion' as was made to apologize.
Again, from 2007- 2016 he was ostracized from the local jamat for airing controversial views on alcohol ban in Islam. He had to approach Madras high court as his local mosque refused to solemnize his daughter's marriage.
Representing Islam in a multicultural society is a contentious issue. While Tamil Nadu had a thriving tradition of Sufi culture promoting inter-religious mingling, the recent trend of interpreting scriptures on narrow supremacist lines refuses to accommodate dissenting views. "Instead of taking on authors through violent reactions, ideology should be fought with counter ideology. Writing on Hindu-Muslim syncretic traditions is still being fought with vengeance. Without space for free thinking art and literature won't thrive in any society," Rasool said.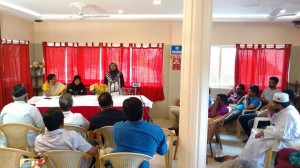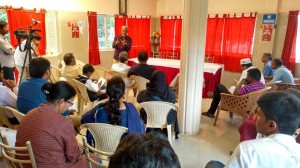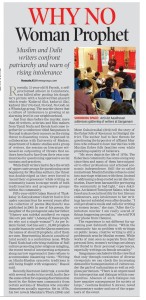 Recently, , a novelist with several works to his credit, had to face the same ordeal for exposing the discrimination faced by the fishermen community from certain section of Muslims who place themselves socially superior in the community. Set in 1970s, his two novels Meenkara Theru (2004) and Meen Guhaivasikal (2012) tell the story of fishermen community of Keeranur in Dindigul district.
The author had to face threat for questioning hypocrisy of affluent Muslims not keeping marriage relationship with fishermen community while preaching equality of believers.
"My story depicts the life of 1970s. The fishermen community has come a long way since then and many of them have migrated to other professions and attained economic independence. Still the so called mainstream Muslim families refuse to enter into marriage relations with them. Instead of addressing a deep-rooted social discrimination, I have been harassed for putting the community in bad light," says Jakirraja.
Acclaimed Tamil poet Salma, who faced much social hostility for her literary endeavors, says the intolerance to her writings has not subsided even after decades of literary career. "I still get abusive mails and calls for writing on women issues," she said while recounting turbulent days of her writing career.
Whoever did it, the Coimbatore murder is a bolt on our face and it came as a rude shock to me as it happened just four days after attending lengthy deliberations on threat to free thinking in Tami society. Now I am really scared of things happening around us," she said over phone from Chennai.
The experience is not different for upcoming poet Zabinath (Zara), who hails from Kayalpattinam, a predominantly Muslim locality in the state. "While community has no problem with writings on public issues, creative writing is still a problematic area for Muslim women. While works of men seen as separated from their personal lives, women's writings are always attributed to their personal experiences, especially writings on female sexuality."
The two-day conference titled Sangamam was aimed at reclaiming space for dissent through meaningful interaction among various streams of thoughts. The confluence concluded that only through coexistence of diverse views and cultures society can check the increasing demand for homogenization of cultures under the grab of nationalism and as well as religious puritanism. Unfortunately, the clamour for puritanism by certain groups is feeding the rightwing groups who try to impose a homogenous culture of their own brand.
"There is an urgent need for introspection and dialogue within communities. Absence of such dialogue can have negative consequences for the society at large," cautioned Kombai S Anwar, noted documentary maker and one of the organisers of the event.
Tags:
atheist
,
Gulam Rasool
,
Keeranur Jakirraja
,
Prophet
,
Salma
,
Sangamam