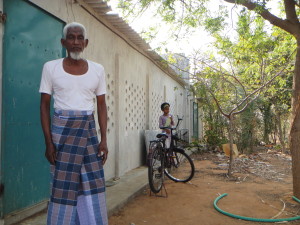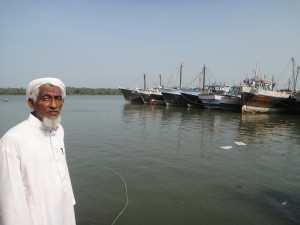 In the blazing May summer, inside his one room house is cool without any artificial cooling system. The house which he himself designed and built in the middle of his farm is just one among many inventions by Ali Manikfan, a man with an extra-ordinary talent and wisdom. This 74-year-old lungi-clad man with frail body is learning and experimenting with his ideas at his house in Arputhar Nagar, a none descript locality about five kilometres away from Valliyoor in Tirunelveli district. 
Ali was born on 16th March 1938 in Minicoy in Lakshdweep as the second son of Musa Manikfan and Fathima Manika. He received his basic education under one-teacher-school at his house arranged by his father. Later, he joined a school in Kannur in Kerala for his formal education. 
But a student, who always dreamed about sea and its myriad lives, never concentrated in his text books. He left the formal education after his third forum, but never stopped learning. He learned English and Sinhalese languages form workers of Minicoy Light House in Lakshadweep. Though he read all books of his friends, he never wrote any exams and holds no certificates. But he kept his eyes and ears opened and learned everything from, the land, the sea and the sky. Over the years, he mastered 14 languages, including Latin, French, Russian, Persian and Sanskrit. 
The turning point in his life came when he swam about a kilometre to reach a ship anchored off Minicoy coast to meet Dr S Jones, the then director of the Central Marine Fisheries Institute (CMFRI). Jones took him to Mandapam in Ramanathapuram where he appointed Ali as lab assistant. In 1980, he took a voluntary retirement as museum assistant to follow his dreams. 
During his stint in CMFRI helped him to harness his knowledge about the sea life and knowledge in astronomy. Considering his contribution in identifying numerous fish species, a fish has been named after his and it is called Abudefduf Manikfani. Describing his contribution, marine biologist Jones wrote in his book 'Fishes of the Laccadive archipelago,' "The very book bears testimony to the part played by Mr M Ali Manikfan of MinicoyIslands. He collected the maximum number of species and ascertained the local names." 
The greatest achievement in his life came when Tim Severin, an internationally famous navigator wanted to replicate the journey of Sindbad, the hero of famous Arabian stories Alif Laila Wa Laila (Thousand and one nights). Tim entrusted Ali to build a ship exactly similar to one on which Sindbad had travelled. 
It took more than a year for a 30-member-team under Ali to build the ship. The team camped at port of Sur in Oman. Ali and his team built 80×25 ft ship made of aini wood, 75,000 of coconut husks and four tonnes of coir, all imported form Kerala. No metal was used in the building of ship. The ship was named after 'Sohar', the ship in which Sindbad travelled. 
In 1981 Tim Severin and his 22-member team travelled 9,655 km form Muscut in Oman to Canton in China taking seven months and eight days. In his book 'The Sindbad Voyage' Tim has paid tribute to the contribution of Ali's to his historic journey. Sohar' is now being kept in a round about in Muscat as a tribute to the navigator and the ship builder. 
Ali's experiment was not limited to the sea. He now holds the patent of a bicycle, which he designed and travelled from Rameshwaram to New Delhi in 45 days along with his son Moosa Manikfan. He also delivered lectured at JNU and National Institute of Science Technology and Development Studies (NISTADS) about his life and experiments. 
A devout Muslim with deep knowledge in Quran, he believes that God has created man with unique capacities and provided the nature as textbook. "We should learn from our surroundings observing the nature. Everyone is capable of that but our educational system has made us homogenous killing the creativity, which came as God's gift," he says. 
He didn't keep his ideas just for preaching. Starting from his house, de didn't give any of his children formal education but guided them to grow with him and explore themselves. Two of his daughters are now school teachers and his son works as ship engineer in Mumbai. The youngest daughter Amina Manika, a graduate in English literature, helps her father in his works. Though none of her children go to schools, they all speak English, Tamil and Malayalam fluently. "Don't teach them, just speak to them, they will learn languages in no time," she said pointing her three-year-old daughter Sara who also speaks English and Tamil. 
For the last 10 years Ali was touring across the country propagating his pet project, a 'unified calendar for Muslim word'. He argues that the Gregorian calendar is known for it addition and omission of days in the past and it can't accepted as scientific. He designed a lunar calendar based on the movements of moon. He is now the chairman on Hijara committee which works for the implementation of lunar calendar among Muslims.
A decade long absence from his farm has done great harm to his farm. He just returned after a month long touring in Kerala. Ali has finally decided to settle in his farm and continue his experiments in the coming days. He is planning to start a school for children based on the concept for learning from nature. "No more journeys, these children need my care," he says looking at the trees in his farm.
When Manikfan bought 15 acres of barren land near Valliyoor 20 years ago, many people mocked him for wasting money. But he was happy as he found an ideal place to set up an experimental farm to work out his concept of 'Do nothing farm'. Over the years, the plot became a green spot in the middle of a desert. But the concept of farming which Ali practiced was different. "Refrain from destroying the nature, then things will grow their own," says Ali.
The experiment of natural farming was first practiced at Vedalai, near Mandapam in Ramathapuram district while he was working at fisheries department. After retirement she shifted his farm to Valliyoor. At the farm you can find various fruit bearing trees, including guava, mango, coconut palm, plantain and different varities of flowering bushes. You will also find so many 'unwanted' creepers and thorny bushes. But for Ali, nothing is unwanted. "I do not destroy them. They also grow and complete their natural cycle of growth contributing their own way to the environment," he says.
Ali is also against constant watering of trees, but he encourages them to search for water. As the tree grows its roots will seek water spreading to surrounding lands. If you water them, you are hampering their natural instinct of searching for water. Sapling should be watered away from the tree helping them to spread the routs, he says.
Over these years, he never used any artificial manure to nourish his trees. Let the fallen leaves decay in the farm and it will serve as natural manure, he says. Due to partitioning of land among his children and selling, the actual area has come down to one acre. All the trees have been uprooted from the land which I sold to others. The only green patch here is this plot which I still own. Just look around you will be convinced what he is saying.
Tags:
Alif Laila Wa Laila
,
Boat building
,
Manikfan
,
Minicoy
,
Tim Severin
,
Voyages of Zindbad