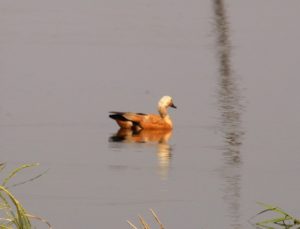 For an amateur bird watcher like me, the pokkali fields of Kadamakkudy have always been a theatre of learning. The beautiful islet with its large swathe of paddy fields and fish farms girdled with lush green surroundings is home to thousands of birds in myriad hues.
On 12th November, it was my first visit of the season to Kadamakkudy as the winter began to set in. Bird watchers had already started flocking to the spot.
With the waters yet to recede fully after heavy rains and floods, the number of birds were fewer than I had expected. Apart from a few terns, sandpipers and black-winged stilts there was nothing exciting. Almost an hour had passed since I started observing the area, when suddenly through the viewfinder of my camera I noticed a bird with bright orange plumage sitting motionless on a mound of slush about 500 meters away.
As a frequent visitor to the spot I guessed it could be a whistling duck, a very common bird in our wetlands. But I was curious about its colour. The bird was sitting in the middle of the field and there was no way to cross the shallow slushy field to get a closer shot. Since I had only a 300mm lens, which is only a basic tool for bird watching, I ventured on to a loose muddy track and kept clicking. As I reached about 50 metres away from the bird it flew away exposing its bright orange wings with broad white patches. The bird started feeding on fish in a patch of water nearby and I clicked a few more photographs.
The next day, a group of birdwatchers spotted the same bird and uploaded its picture on the WhatsApp group of Cochin Natural History Society. Experts on the group identified the bird as Ruddy Shelduck ((Tadorna ferruginea), a rare visitor to South India and confirmed that it was the first time that it was spotted in Ernakulam. With its orange-brown body, paler head and neck, and black wing-quills, tail and legs, the bird is a native of southern Europe and Central Asia and flocks to the Indian subcontinent during the migratory season.
Those who spotted the bird, including me, confused it with the lesser whistling duck that has almost similar features except its brownish colour. Interestingly, the Ruddy Shelduck that I spotted in Kadamakkudy was solitary. Experienced birdwatchers say the Shelduck is rarely seen alone. They stay lifelong as pairs and if one dies the other follows suit soon. Five days after my fight sighting, I saw the bird again at the spot – still alone.
My sighting was the first in Ernakulam district and the fourth in Kerala. The species has been spotted earlier in Purathur (Malappuram) in 1988, Kole (Thrissur) in 2005 and Katampally (Kollam) in 2008 and 2012. With the winter season still unfurling, I feel I have already had my Eureka moment.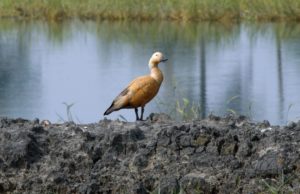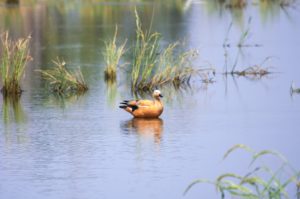 Tags:
Birds
,
Birdwatching
,
Kadamakkudi
,
Ruddy Shelduck