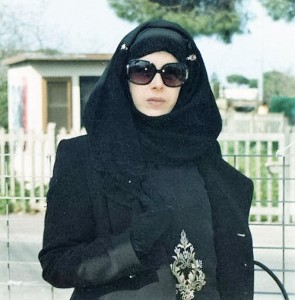 Dr Sabrina Lei is an Italian public intellectual and writer strongly advocating productive dialogue between Islam and the West. She is an emerging voice in the West who wants build a new discourse rooted in the humanistic principles of Islam, accepting the diversity of human experience manifested in today's globalized world.
The 40-yrar-old scholar heads Tawasul Europe Centre for Dialogue and Research, a prominent think tank based in Rome established in 2010. She completed her MA in philosophyat Sapienza University of Rome, one of the oldest European universities, and later, she got her PhD in ancient philosophy in the Aristotelian philosophy.
Tawasul Europe has now become a unique research foundation that works to building cultural and religious ties across different religions and challenging Islamophobia. Tawasul Europe is also devoted to producing informed and objective books on Islam and Muslim civilization, and fostering interfaith ties across different religions, apart from creating a good network of scholars, professors and students, doing research into different branches of humanities, religious and cultural studies.
The scholars, intellectuals and experts working with Tawasul Europe are deeply interested in examining the constructive role that Islam can play as a civilizational force, strengthening spiritual values, protecting human freedom and gender justice and building the genuine interfaith ties across different religions such as Islam, Christianity, Judaism and Hinduism.
One of the inspiring achievements of Dr Sabrina has been her translations of 30 groundbreaking Muslim and eastern classics into Italian, covering the areas like religion, philosophy, literature, theology, poetry and history.
Dr Sabrina has also authored five books in Italian, and published about 25 books  including a two-volume biography of the Prophet (peace be upon him), presenting the life and mission of the Prophet as a logical culmination of the mission of the previous Prophets, in order to challenge the dehumanisation of the Prophet (peace be upon him) in the West, using her insights into Old and New Testaments.  Also, Dr Sabrina has written an extended meditation on Islam called Reflections on Islam, discussing some of the key Islamic themes, based on her insights into Islam, philosophy, sociology and anthropology.
Her latest work, an Italian translation of the classic and universally read 1934 English translation of Abdullah Yusuf Ali was released last week in Rome. This is her second translation of Quran into Iralian language. In 2016  Dr Lei had translated 'The Quran with Biblical References', by the American Arab-Muslim scholar Dr Safi Kaskas and was presented to Pope Francis in Vatican, wining his appreciation.
As part of widening her interfaith dialogue to include non-Abrahamic religions, Dr Sabrina is in the process of producing a new translation of the Hindu religious epic Bagavad Gita into contemporary Italian, with notes. The proposed Gita translation, with an introductory notes  on Hinduism and Gita,  scheduled to  be launched early 2019.
Dr Sabrina Lei also devotes  her time to the Italian translation the Indian reformer Raja Rama Mohan Roy's book Tuhfatul Muwahhidin (A Gif to the Monotheists), which Rama Mohan Roy wrote in Persian, with an Arabic introduction.
Being a philosopher herself and already translated Reconstruction of Religious Thoughts in Islam and The Development of Metaphysics in Persia, the two philosophical classics of the South Asian philosopher Muhammad Iqbal, into Italian, Dr Sabrina is also currently doing the background work for translating Dr Adha Krishnan's Hindu Philosophy and Indian philosophy and other South Asian classics into Italian.
Dr Sabrina Lei is also the Italian translator of the famous Malayalam actor Innocent's Laughing Cancer Away. She has earlier translated the first Malayalam novel Indhu Lekha, Thakazhi's masterpiece Chemmeen, Sabrina Lei's Balyakalasakhy into Italian.
Dr Sabrina Lei works closely with Dr Abdel Latif Chalikandi, her husband, an accomplished scholar of classical Islam, Muslim jurist and interfaith expert.
Tags:
Abdullah Yusuf Ali
,
Bagawad Gita
,
Chemmeen
,
Christianity
,
Indhu Lekha
,
Islam
,
Quran
,
Sabrina Lei
,
Tawasul