The fondness for Arab food and dress among the Muslim community in Kerala is often frowned upon as a sign of creeping radicalism. Is it, instead, a sign of growing Islamophobia?
"Do you see Makkah and Madina?" Suhara called out when Majeed had climbed right on top of the mango tree. The conversation from Vaikom Mohammed Basheer's celebrated novel, Balyakala Sakhi, encapsulates the Muslim community's unavoidable attachment to Arabia and the way this connection has shaped its life and culture.
However, according to some observers, the growing trend of  'Arabization' among the community is a cause for concern.They point to the prevalence of Arabian food, dress and usage of Arabic words in day-to-day conversation as an indication of this change. It is seen as regressive and a result of deliberate attempts to bring in petrodollar or Wahabi Islam to Kerala. "The trend is growing at an alarming speed and can be seen in all walks life of the community . While black purdah and kafia (head scarf for men) have become common styles, kafsa, kuzhimanthi and shavarma have become preferred items on the dining table," says M N Karassery .
While the Muslim Renaissance under Vakkom Abdul Khader Moulavi and others had drawn inspiration from Egyptian scholars like Mohammed Abdu and Rashid Rida, present-day scholars look towards Saudi Arabia's puritanical interpretation of Islam for inspiration. But the influence is not limited to those who subscribe to Wahabi Islam alone. Even the orthodox Sunni sections, who are diametrically opposed to what Wahabi Islam stands for, are also influenced by the trend and there is strong economic reason for this. Karassery feels it is probably because everybody wants to be in the good book of wealthy Saudi ruling class.
However, sociologist and writer N P Hafiz Mohamed disagrees. The effect of Arab culture among the community is peripheral and cannot be called 'Arabisattion' nor equated with 'Sankritization': The influence is limited to certain aspects of life like food and dress and the term is being used with a political connotation in the context of growing Islamophobia, he feels.
In fact, the Muslim way of life here is rooted in the composite culture of Kerala.For example, coastal Muslims in Kerala follow matrilocal system which is considered un-Islamic among Arabs. Similarly , co-education is still not encouraged in Arab culture but here it is given with the majority of Muslim institutions.
Spreading of Arabian food is a recent phenomenon and it has other reasons than Arabization. "There was a large scale influx of Gulf returnees in Kerala, especially due to the nitaqat policy. Cooks working in many ` Arab' restaurants here are Gulf returnees -this section also has flooded the labour market in Kerala," Mohamed said.
According to translator and commentator A P Kunhamu, the influence of Arab culture has become more visible in recent years. "Changes in society are the extension of traditional links with the Arab world. Modern communication technology and faster transportation modes have made the changes faster," he explained.
Apart from that, across the world marginalized communities are trying to reassert their identities in the context of western influences. Muslims are not an exception. "For historical reasons, Muslims share the feelings of a besieged community and there is a concerted effort from the community to resist the attack with alternatives compatible with their religious ethos. Parallel educational institutions, Islamic banking, business ventures, home cinema and music and halal tourism are all the reflections of this change," Kunhamu said, adding that if there was nothing wrong with accepting KFC and Coco Cola then there was nothing wrong in accepting shavarma and kubboos as well.
Shajahan Madampat, a cultural critic based in Dubai, is inclined to disagree."While accepting good things from any source is welcome, most of what creeps into our social milieu from the Arab world, especially Saudi Arabia, is downright regressive. More than anything it nullifies the work of generations of reformers within Islam to reconcile modernity with Islam. Of course, this is happening as part of deliberate missionary attempts at homogenizing Muslims into a single illiberal theology , buttressed by the inflow of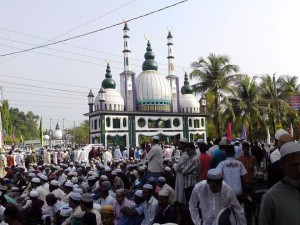 ," he said.
But historian Dr M Gangadharan is optimistic and argued it will not change the culture of the community as a whole."Here Muslims mingle freely with other communities, while in other parts of India they generally live in separate clusters," he points out. To put things in perspective he elaborates: "While keeping multiple wives is a normal practice in Arab culture, it is looked down upon among Muslims in Kerala. Arabian food is a delicacy in restaurants not in the menu of Muslim homes. And more and more Muslims are turning to vegetarianism while Arab menu is basically non-vegetarian."
http://epaperbeta.timesofindia.com/Article.aspx?eid=31811&articlexml=If-KFC-is-okay-so-is-kuzhimanthi-04042015002025
Tags:
Arabian food
,
Arabisation
,
Keral Muslims
,
Petrodollars
,
Purdha
,
Wahabi Islam