If not today, tomorrow/If not tomorrow, another day/It's how life has always seemed/Since the dawning of memory
These lines sum up the longing for freedom by Salma, one of the celebrated poets in Tamil literature today. In the 90-minute film 'Salma' British filmmaker Kim Longinotto portrays her tumultuous journey – marked by parental and family opposition to her literary endeavour and societal hostility — from her village Thuvarankurichi to the global literature stage.
The documentary was first released in 2013 January at Sundance film festival in London and has received rave reviews in the west.
The film starts with the poet Salma taking a train home to Trichy where she spent much of her early in the restricting confines of a rural Muslim society. The story slowly unfolds when Salma explains the life of girl in a traditional Muslim family. Like any other girl in her community, Salma was forced to give up her education the day she attained puberty when she was just 13 years old. But her urge to write continued through her marriage against her will at 21. But Salma refused to give up and poured out her feelings through poems written in utmost secrecy. "I hid in the toilet and wrote my poems which were smuggled out to the publisher," Salma recounts.
When I refused to stop writing my husband threatened me with pouring acid on my face and I used to sleep holding my son close to my face, she says.
The turning point came when Thuvarankurichi town panchayat was reserved for women and her husband asked her to contest as a DMK candidate. Salma won the election and it opened a window to the outside world.
After losing the 2006 assembly election the poet became more active in literary activities and carved a niche for herself. Shifting life to Chennai after being appointed as the chairman of social welfare board in 2007 widened her horizon.
But her works that often dealt with female sexuality and male domination brought the wrath of the orthodox sections of the Muslim community. "I still get calls telling me not to write as it is not advisable for Muslim women to write on such topics," she said.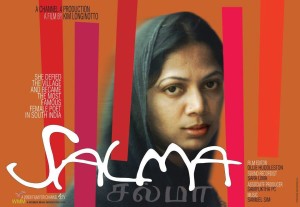 Salma's work can be lauded for throwing light on a world that is not well known – rural Muslim society, says Ravikumar, noted dalit scholar and editor of some of Salma's works. Salma's rise coincided with the outpouring of women's literature in Tamil and has value in describing gender relations, he adds even while expressing doubts how her work can be judged purely on literary terms.
The documentary too seizes upon the uniqueness and the courage of a Muslim woman poet in rising above her circumstances that Ravikumar praises, but the film sometimes lapses into hyperbole. In an interview, Longinotto , for instance, has compared the societal restrictions that Salma faced in her early life to the incarceration of Nelson Mandela. "I was in the middle of reading Nelson Mandela's memoir, in which he talks about smuggling out information on pieces of toilet paper. We were all campaigning for Mandela, but there were all these girls under a kind of house arrest and nobody was campaigning for them," Kim said in an interview with the Wall Street Journal.
The documentary also says Salma was locked up for 25 years in Thiruvarankurichi although the poet says that would be a wrong term to use. In one of the beginning shots the English subtitle reads, "Salma is returning to the village where she was locked up by her family for 25 years." The film repeatedly shows the poorly lit room with a rusted window where Salma was 'locked up'.
"But the fact remains that I was confined to my house without any outside contact for almost nine years," she adds.
She would prefer that the English subtitles are removed during the screening in Chennai and let the Tamil spoken in the film speak for itself.
Though the film Salma has been screened in more than 70 countries across the world, the poet was worried about the patriarchal society at home which she had to fight against throughout her life. "I am aware of the possible repercussions but I have decided to go ahead with the screening in Chennai," she said.
Tags:
Kim Longinotto
,
Patriarchy
,
Salma
,
Tamil poet
,
Thuvarankurichi
,
Trichy