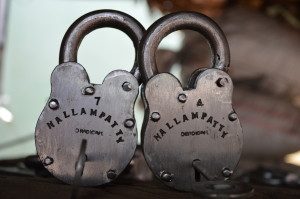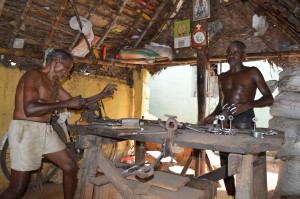 Though the Dindigul mango lock is waiting for Geographical Indication tag, more than a century-old lock-making craft is almost on the verge of extinction. About three decades back, more than 300 families were involved in the making of mango locks and the number has now dwindled to less than a dozen in Nallampatti, a village known for this skill.
Lack of patronage and cost of production are affecting the traditional craft which is mostly labour intensive. As the new generation is averse to manual labour, not even a single youth in this village has taken up lock-making as a career in the last few decades. Almost all craftsmen who are involved in the manufacture of locks are about 45 years old. They fear that within a few years the practice will die. "I have been doing this job for more than 46 years. When I started my unit, hundreds of families in my locality were also doing the same job. Now, I can count their numbers on my fingers," said 56-year-old M Muthuveeran who works in a shed attached to his house.
The shed remains the same even after four decades and the job is still done manually. The tradition keeps us going and we have no other option other than this, he said. He also feel that after him no one his family will take up the job as his son, a diploma holder in electrical engineering is not interested in lock-making.
Muthuveeran is not an exception. Almost all the traditional lock-makers in this village are in their twilight years and are expecting a slow death of the craft very soon unless the government takes up some drastic measures to save it. About a kilometer away from his shed, work 55-year-old Duraisami and 50-year-old Marathamuthu. This unit is known for its typical mango lock with the name of the village embossed on it. A 10×10-feet thatched shed is crammed with finished locks and scrap and under the sweltering sun they work from dawn to dust without even a fan. On an average the unit may produce six locks a day as there is no machinery involved in its manufacture. "We work as per the orders we receive from wholesale seller of locks in the city. But we are known for our quality and brand name Nallampatti," said Duraisami.
The cost of iron has shot up many times. Even though it is a small-scale industry we do not receive any subsidy from the government or any other encouragement. How long will we survive if we sell the lock to the wholesaler at Rs 160 when its production cost alone comes to around Rs 120? asked Marathamuthu.
Tags:
Dindigul locks
,
lock making
,
mango locks
,
Nallampatti