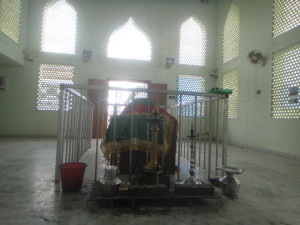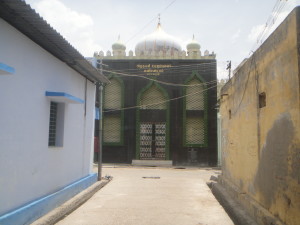 At the age of 16, Umaru was appointed as the court poet of Ettappan Naikkar, the ruler of Ettayapuram, after winning a literary debate with another renowned poet of the time. With a literary career spreading over five decades, Umaru Pulavar has contributed several books and poems to the Tamil literature. Seera Puranam, the magnum opus with 5,027 verses, is still considered as one of the greatest works in Tamil poetry.
Umaru Pulavar was born in 1642 in a traditional Muslim family at Ettayapuram in Tuticorin district. He belongs to a family of perfume sellers who traces their origin to Arabian traders settled on Tamil Nadu coast.
Early in his career Umaru was patronised by Kadikai Muthu Pulavar, another poet at the court of Ettayapuram zamindar. While Umaru was working on Seera Puranam, Abul Kassim Marakkayar, a prominent trader in Parangipettai in Cuddalore, invited him to his place and offered all help to complete the work. It was at a house situated on Gummath Palli Street in Parangipetta, Umauru completed the greatest work of his life.
Seera Puranam describes the life of Prophet Muhammad in three parts. The first 'Vilathathu Kandam' describes the early life of Muhammad and second part 'Nubuvvat Kandam' dwells on the prophetic life of Muhammad. The last part 'Hijrath Kandam' describes the struggle of the Muslim community during their migration from Makkah to Medina.
Umaru has also many books and anthologies to his credit, including Seethakathi wedding poems, Seethakathi Nondi Nadagam, Nanuru Govai and Muthu Mozhi Malai.
A great exponent of communal harmony and cultural integration, the first poem in Seera Puraman, 'Thiruvin Thiruvai', deals with the composite culture of Tamil Nadu born out of years of trade and cultural ties with Arabia. The first memorial for the poet, who breathed his last at the age of 63 in 1703, was erected by one of his Hindu friends, Pitchai Konar of Ettayapuram. This tradition of communal harmony is still cherished by the local community. "Apart from visiting his grave, Hindu parents still name their boys as Umaru Thevar and girls as Umarammal," said Ilasai Manian, a researcher on Bharatiyar writings.
Unfortunately, none of the original writings of Umaru have been preserved and it is a shame that we could not pay tribute to the great poet even at his birth place, he added.
The poet has been considered as a pioneer in linking the Islamic tradition with the Tamil culture. "Through his writings he familiarised the history and culture of Islam to the readers of his native country. Though his ancestors were from Arabia, he preferred to write in Tamil and he was a perfect example of a Tamilised Muslim," said Dr V Arasu, head, department of Tamil literature, University of Madras. Since he was a court poet and many of his works were in oral form, a great treasure of literature might have been lost as they were not preserved in writing, he said.
While writing about the Tamil Muslim literature (Muslim identity, Print culture and the Dravidian factor in Tamil Nadu, Orient Longman 2004) JBP More says, Umaru Pulavar made use of Tamil Hindu features and forms in his writings to drive home the Islamic message among the predominantly non-Islamic Hindu population.
According to More, Sira Puranam belongs to the period of Urudu speaking nawabs of Arcot, who were highly influenced by Persian language. One very important factor of the Seera Puranam is that it contains not only a number of Arabic words, but also a good number of Persian words. Thus it is possible to suggest that the entire work would have, in all probability, been created during the rule of Arcot nawabs, he says.
It is believed that Umaru could not complete Seera Puranam and it was later completed by three other Muslim poets who completed the work by writing Sinna Sira (Little Sira). But after Sinna Sira there have been a lull in Tamil Muslim literary activity which lasted till the beginning of the nineteenth century.
Tags:
Ettayapuram
,
J B P More
,
Muslim Identity
,
Seera Puranam
,
Sinna Sira
,
Tamil Epic
,
Tamil Literature
,
Tamil Muslim Poet
,
Umaru Pulavar