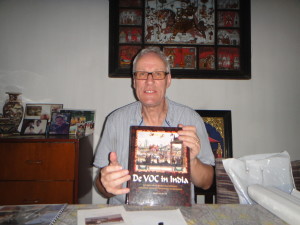 "If you draw a map Kochi today it would look exactly similar to this," said Bauke van der Pol, pointing a map of FortKochi drawn by the Dutch more than 400 years ago. For the past four decades, Dutch anthropologist Bauke van der Pol has been travelling around India, painstakingly collecting information about the history and heritage of the Dutch East India Company.
His work has resulted in a book, De VOC in India, a richly illustrated volume that guides a reader through the Dutch forts, cemeteries, settlements, villages and influences, all the way from Surat on the west coast to Kolkata on the east. One chapter is completely dedicated to Kochi and its Dutch connections. 
As a historian, Pol has guided foreign tourists several times through the streets of Kochi explaining the footprints left by his ancestors there. This is one the place where you will see the Dutch legacy is so visible and well protected even after several centuries, he says. 
Kochi was a major trading centre for the Dutch in South India. The Dutch fort in Mattanchery, Udayagiri fort and cemetery are some of the major remnants of the past in Kochi today. The fort was captured from the Portuguese and further fortified by the Dutch. 
Many of the elevated places in Kochi such as Holland Bastion, Thakur House and Bishop's House are the vestiges of the fort, Pol says. Since Dutch were much interested in the flora and fauna of the area, many streets here were named after flowers like Rose (Roose Straadt) and Lily (Lelij straadt) and many of them still retain these names, he says. 
Hortus Malabaricus, the first treatise on medicinal plants in Kerala was compiled by Hendrik Van Rheede and its original copy written in Latin is kept at LeidenUniversity in the Netherland. "Rheede died in Surat while on his way back to his country and his grave is still can be seen at Katragam Darwaja in Surat," he said.
De Lannoy was another Dutch official who made great contribution to the Travancore army. He was captured at the Battle of Colachel in which Dutch was defeated by the army of Marthandavarma. Later, Lannoy was appointed as chief captain (valiya kappithan) of the Travancore army and he trained the army on western lines. Descendents of Lannoy still live in Amsterdam.
In the north, Jan William Hessin played the role of Lannoy under Maharaja Dowlat Rao Scindia of Gwalior. On his honour the raja built a beautiful grave in Agra and it is called Red Taj. "It is the biggest grave built for a Dutch national outside the Netherlands," Pol says. 
Pol chronicles the lives of ordinary Dutch men and women who came to India as carpenters, masons, soldiers and traders. They left their footprint as you see names like Burgerstraat (Citizen Street) in many Dutch settlements in India. 
The influence worked both ways. Traditional Dutch clothing still has Indian influence in the blue-and-red checked patterns on the skirts and shirts. These dresses are called Coromandel clothing. They are only used on special occasions now, and are considered typically Dutch. "Most of these textile items were procured form Pulicat, a major Dutch settlement near Chennai and they were called Coramandel clothing," he said.
Pol's connection to Kerala dates back to 1980's when he did his research on Pulayas of north Kerala as part of his masters at Free University in the Netherlands. He also wrote 'Mallabaarse Brieven' (Letters from Malabar) about Dutch preacher Jacobus Canter Visscher, who worked in Kochi from 1717 to 1723.  
Van der Pol's first trip in 1974 was done entirely overland. I saw the changes in climate, language, food and traditions as I travelled. The six-week journey covering Turkey, Iran, Afghanistan, Pakistan and India was tedious but marvelous. I crossed the border into India at Attari and stayed at Amritsar near GoldenTemple on my first day in India, he says.
Tags:
Bauke Van der Pol
,
De Lannoy
,
De VOC India
,
Dutch
,
Hortus Malabaricus
,
Kochi
,
Marthandavarma