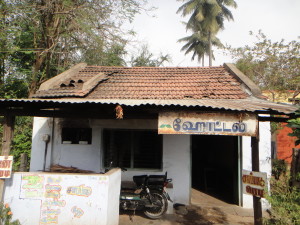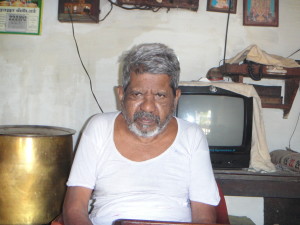 Looking at the smoke-tainted walls and old furniture at his shop, 70-year-old Venkatachalam recounted the heydays of the Modern Theatres. In fact, it was the golden years of his life too, when his shop was crowded with movie artistes who come for shooting. "If the theatre was up and running, you would not have seen me in this condition," he said sitting behind an old wooden table which he uses as the cash counter at his tiffin shop.
A framed black and white photo of TR Sundaram still hangs on his kitchen wall along with a photo his father Govindasami Gounder, who was a close friend of TRS. Every morning, before I open my shop I silently stand in front of those photographs, but the starry crowd which kept my business alive has become part of history, said Venkatachalam.
The nameless, one-room tiffin shop opposite to the theatre, is old as that of studio and still survives as a reminiscent of glorious past. The shop was started my father Govindasami just after the studio was opened in 1937. Since then, till the studio was closed in 1982, our shop was a meeting point for many of the great artistes of Tamil cinema. While movie stars ordered meals as parcel, supporting artistes, technicians and other crew members came here for food. "They sat and chatted for hours in these same benches," Venkatachalam said with a sigh.
On those days our shop was open from 4am till late night to serve the needs of studio customers and we had at least six employees to deliver service.
Great directors like SP Muthuramar, RS Srinivasan and Sivakumar used to come here for their evening tea. "I was so thrilled when I saw Prem Nasir, who came for shooting of 'Kandam Vecha Kottu'. I had gone to the studio with my father to deliver a parcel biryani which Nazir had ordered. I met many other Malayalam stars like Adoor Bhasi, Ponnamma and director IV Sasi in those days, he remembered.
Closeness to TRS helped my father to open small tea shop inside the studio complex. But it was closed after the death of TRS. This we still keep it running as we don't have any other source of income, said Venkatachalam, who runs the shop with the help of his wife Anandavalli.
It was just after my marriage and our shop was usually a crowded place. I used to manage the kitchen and my husband took care of parcel delivery to the studio. It was one of those days I visited the studio where Manorama starred Konchum Kumari was shooting. I vividly remember that TRS died while the shooting was on, said Anandavalli.
We had good business when his son Ramasundram took over the studio. Ramappa (Ramasundaram) used to signal me for tea from his car before it enter the studio gate, she said.
Tags:
Modern Theatres
,
Tamil Cinema
,
TR Sundaram
,
Venkatachalam